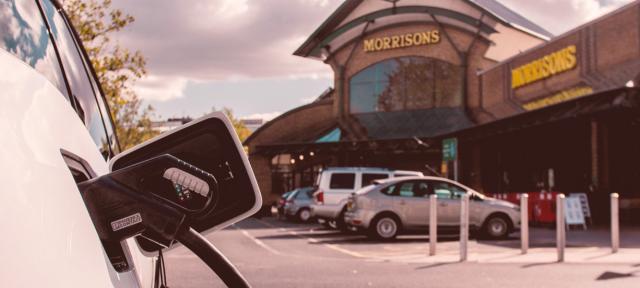 We're introducing GenieFlex – a new, innovative, varied pricing tariff which will be rolled out across our public charging network at 08:00 on the 18th November 2022.
With GenieFlex we will be making some changes to the price you pay to charge with GeniePoint. Here's what you need to know…
GenieFlex explained
In a nutshell, GenieFlex is a form of varied pricing, where the price you pay for your charge session changes according to the time of day you start your charge. It is an innovative approach to pricing, with the ultimate goal of providing customers with access to lower rates at times when charge points are less likely to be in use, as well as supporting UK grid capacity.
We've classified 'peak' as between the hours of 08:00 and 19:59 and 'off-peak' as between 20:00 and 07:59. Essentially this means if you start your charge at or after 8pm or before 8am, you will be able to charge at 75p per kWh (see below). If you choose to charge at or after 8am or before 8pm, you will pay 79p per kWh. GenieFlex will apply for both registered drivers and those charging via guest / contactless payment.

Please note, the price you pay for your entire charging session will be calculated using the pence per kWh applicable at the time you start your charging session, irrespective of when your charging session ends.
Why GenieFlex?
GenieFlex isn't just about better management of energy. With the cost of living crisis affecting all of us, it's a way for us to continue to give our customers access to lower charging rates during off-peak hours, as we manage increases in our cost of energy too. For drivers who don't have access to home charging, GenieFlex provides customers the opportunity to charge on public rapid chargers at a good value rate and benefit from varied pricing.
As the concept of varied pricing is pretty new to the world of EV, we launched our first trial back in July across a small number of chargers, to understand whether charging a lower rate per kWh during off-peak hours would shift consumption and increase the amount of discounted electricity sold to drivers. Since launch, we've seen a significant shift in the number of drivers choosing to charge during off-peak. As the trial evidenced a behavioural change in charging, we now want to expand this across our whole network, to offer greater choice and flexibility for our customers and give drivers the opportunity to access lower rates.
We appreciate you may have some questions, so we have answered some of the most likely questions below:
When will GenieFlex be rolled out?
At 08:00 on the 18th November 2022, the new GenieFlex tariff will be live across GeniePoint network public chargers that we own, including both rapid and fast chargers.
Why is there a price increase during peak hours?
Despite several price increases from network operators across the public charging market, we've held off from increasing GeniePoint network prices for as long as possible. However, due to a continued rise in wholesale costs, we're no longer able to maintain our current GeniePoint tariff.
However, we want to do all that we can to keep our prices as low as possible for customers, which is why we're introducing GenieFlex – a completely new approach to pricing.
GenieFlex is about offering choice and flexibility to our customers and providing access to a lower rate off-peak for everyone. By holding our price of 75p per kWh during off-peak, we're able to offer one of the most competitive public charging prices within the market.
Are GeniePoint prices likely to change in the future?
Despite the Government's announcement of a non-domestic energy price cap, the full cost of the energy we purchase has increased, alongside other supply chain costs. Unlike your home energy tariff, the non-domestic price cap is only for the wholesale element of supply, not the full unit rate. According to Ofgem data, the wholesale cost element of a bill is around a third of the total bill (other cost factors include network costs, operating costs and more).
However, we hope to maintain our current GenieFlex tariff and ensure price stability for our customers for as long as possible, considering future uncertainty over Government energy support for businesses after March 2023.
Will GenieFlex be rolled out across private scheme chargers?
There are some chargers supplied by GeniePoint that are owned privately. GenieFlex will only be rolled out across GeniePoint public chargers and will not affect privately owned chargers or white label networks, e.g. the Revive Charging Network in Bristol.
You can find the full list of these schemes on our website: https://drivers.geniepoint.co.uk/private-scheme-chargers
Will GenieFlex be rolled out across chargers at my workplace?
No, workplace chargers are also classified as private scheme chargers, which means there will be no changes to pricing.
A charge point near me has been broken for some time. Does this mean that the charger will take longer to be fixed?
We're working hard to repair chargers, but we are experiencing delays with receiving replacement parts for chargers which means our repairs are taking longer than usual. You can read more about this on our website: https://drivers.geniepoint.co.uk/improving-charger-reliability
Where can I find the new pricing when I charge?
You'll see this price within the GeniePoint app when you select a charging location, as well as on our website. We are also working hard to update our charger screens and any pricing stickers that are currently on the charger unit. Please note for a short time, you may see our old pricing tariff on the chargers, but will be charged as per the new tariff, which you can confirm by referring to the price within the GeniePoint app when you charge.
If you have any questions, get in touch with us.  Thank you for being part of the GeniePoint community.