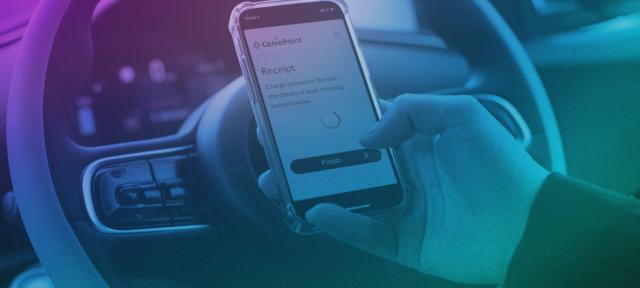 Information on how to enter and the prize(s) form part of these Terms and Conditions. Participation in this promotion is deemed acceptance of these Terms and Conditions.

Entry is only open to UK residents aged 18 years or over. Employees (and their immediate families) of the Promoter and agencies associated with this promotion are ineligible to enter.

Competition commences from the date and time the Promoter posts on their Twitter (GeniePointEV) and Facebook (GeniePoint) channel with the sponsored content. The competition closes at 23.59 on Monday 13th September 2021. To enter the competition, individuals must have followed the entry requirements including liking the post, following the page, submitting a photo of their EV charging and sharing what they love most about being an EV driver. The entry must be submitted on the Promoter's post shared on Monday 6th September 2021.

In total, two winners will be chosen. One from Facebook and one from Twitter. Each individual winner will receive a £50 GeniePoint charging credit.

The winners will be selected at random and notified on Tuesday 14th September 2021. The winners will have until 23.59 on Tuesday 28th September 2021 to claim their prize. A draw for any unclaimed prizes may take place after this date.

To claim the prize, the winner will have two options. 1) If they have a GeniePoint registered account, t

he credit will be added to this. 2) If they do not have a GeniePoint registered account, they will be sent a

pre-loaded RFID card which they can register and use across GeniePoint public network chargers.

The winner will need to drive an electric vehicle compatible with GeniePoint's charging stations in order to make use of the prize. A full list of charging stations is available to view at:

https://www.geniepoint.co.uk/ds/PublicMap

The winner will be chosen by the Promoter at random and their name will be tagged in a comment on the post on which they entered. By entering this competition, you consent that, if you win, your name will be published in a Facebook and Twitter post by the Promoter.

The winners will be required to "direct message" the GeniePoint Facebook and Twitter page using the account with which they entered the competition, within 48 hours of being tagged on the post in order to confirm acceptance and arrange receipt of their prize.

The Promoter's decision is final, and no correspondence will be entered into.

The prize does not include any additional expenses incurred by the winners.

No purchase is necessary to enter.

Entries containing rude or offensive words or connotations or anything which may be deemed by the Promoter to damage the Promoter's reputation will not be entered into this promotion and may be deleted.

No bulk, third party or organised group entries will be permitted.

Entrants consent to the Promoter using their name, likeness, image and/or voice in the event they are a winner (including photograph, film and/or recording of the same) in any media for an unlimited period without remuneration for the purpose of promoting this promotion (including any outcome), and promoting any products manufactured, distributed and/or supplied by the Promoter.

By entering the competition, entrants agree that their entries can be posted on the GeniePoint website, blog, Twitter page, Facebook page, and other related GeniePoint online/social media platforms. By entering the competition, entrants must agree to related publicity, and that their entries or images may be used by the Promoter as they wish without prior notice to the entrant.

The Promoter reserves the right, at any time, to verify the validity of entries and entrants (including an entrant's identity, age and place of residence) and to disqualify any entrant who submits an entry that is not in accordance with these Terms and Conditions or who tampers with the entry process. Errors and omissions may be accepted at the Promoter's discretion. Failure by the Promoter to enforce any of its rights at any stage does not constitute a waiver of those rights.

Incomplete, indecipherable, indecent or illegible entries may be deemed invalid in the Promoter's absolute discretion.

The prize is not transferable or exchangeable and cannot be taken as cash, unless, at the Promoter's sole discretion, otherwise specified.

If this promotion is interfered with in any way or is not capable of being conducted as reasonably anticipated due to any reason beyond the reasonable control of the Promoter, including but not limited to technical difficulties, unauthorised intervention or fraud, the Promoter reserves the right, in its sole discretion, to the fullest extent permitted by law: (a) to disqualify any entrant; or (b) subject to any written directions from a regulatory authority, to modify, suspend, terminate or cancel the promotion, as appropriate.

Any cost associated with accessing the promotional website/associated services is the entrant's responsibility and is dependent on the internet service provider used by the entrant.

The Promoter reserves the right to amend the Terms and Conditions of this competition at any time. If the Promoter does so, this will be published in the Terms and Conditions for the specified competition on the website.

Except for any liability that cannot by law be excluded or limited, including liability for death or personal injury caused by negligence or negligent omission, fraud or fraudulent misrepresentation, the Promoter (including its respective officers, employees and agents) is not responsible for and excludes all liability for any loss or damage (including loss or profit, loss of or corruption of data, loss of use, loss of production, loss of contract, loss of savings, discounts or rebate (whether actual or anticipated), loss of opportunity or harm to reputation or loss of goodwill); whether direct, indirect, special or consequential, arising in any way out of: (a) any technical difficulties or equipment malfunction (whether or not under the Promoter's control); (b) any theft, unauthorised access or third party interference; (c) any entry or prize claim that is late, lost, altered, damaged or misdirected (whether or not after their receipt by the Promoter) due to any reason beyond the reasonable control of the Promoter; (d) any variation in prize value to that stated in these Terms and Conditions; (e) any tax liability incurred by a winner or entrant; or (f) use of a prize.

By entering the promotion, entrants are deemed to have given their consent for the Promoter to process their personal data insofar as it is necessary for the Promoter to conduct the promotion and may, for this purpose, disclose such information to selected third parties, including but not limited to agents, contractors, service providers, prize suppliers where it is necessary to do so in our legitimate interests. The Promoter shall retain this personal data for as long as necessary for the purpose of conducting the promotion. Entrants may withdraw their consent for the Promoter to process their personal data at any time by contacting privacy.uk@engie.com. Any queries regarding use of entrants' personal data can be directed to privacy.uk@engie.com.
The Promoter is GeniePoint, owned and operated by ENGIE EV Solutions Limited (with registered company number 07214557), Q3 Office Quorum, Business Park, Benton Lane, Newcastle Upon Tyne, NE12 8EX